Christmas is a time for you and your family to enjoy the warmth and fun that comes along with Christmas preparation. According to a report by National Fire Protection Association, Christmas decorations are involved in more than 400 fires yearly which results to dozen injuries and deaths and more than $10 million property damage. Therefore, prioritize safety as you buy and install Christmas decorations and do not let preventable fires or injury snatch you from the fun.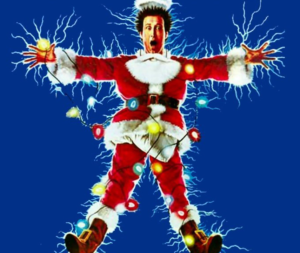 The following twelve safety tips are helpful in avoiding electrical shocks and fires from Christmas decorations.
USE LED LIGHTS: Use LED lights if possible. LEDs consume less energy, prevent overload and saving money on power. They also create less heat for less risk of fire.

USE FIBER OPTIC LIGHTS: fiber optic decoration is a great way to save on power since you only need one bulb to light multiple points. Light is sent through the optical cable in alternating colors adding a cool touch to your space.
KEEP CONNECTIONS DRY: Keep your connections dry. They sell capsules to cover connections between light strands and extension cords.
EXTENSION CORDS: Make sure that you use outdoor-rated extension cords if being used outdoors.
POWER OUTLETS: Add power outlets to your roof eaves and yard so that you do not need to run too many extension cords. The power outlets should be able to shut down the circuit in case there is overcurrent. Redhawk Electric technicians are skilled at installing ground fault circuit interrupters (GFCI) which will ensure your lights shine rather than spark.
CIRCUIT BOX: Engage a professional electrician like Redhawk Electric to check if your electrical panel needs upgrading. Ask the electrician to guide you on the wattage and power load required for decorations. Check the circuit box to make sure that the power load from the decorations does not exceed the breakers for the outlets you plan to A typical household circuit can only accommodate a maximum of 600 strings of 50 LED lights. This step ensures that you do not overload your circuit and blow a fuse.
USE CANDLES: consider using battery operated candles especially for your indoor spaces. Candle lighting adds warmth and creates a Christmassy atmosphere without increasing your power bills. They come in a variety of colors, and they will add fantastic lighting mood inside the house. Battery candles are a good deal especially if you toddlers in the house as they eliminate the risk of a fire.
OUTDOOR RATED: Do not use indoor lightings or extension cords outdoors.
FIX BROKEN DECORATIONS: Inspect your lightings and decorations thoroughly for damaged bulbs, plugs, or insulations before installing them. Any damaged, kinked, or frayed extension cord or plug should be discarded. Broken bulbs should be replaced. This procedure should apply to both brand new and seasoned decorations from past holidays.
AVOID SHOCK: To avoid electrical shocks, always turn off the lightings and unplug them before replacing fuses, changing bulbs or repairing a Christmas decoration. Any replaced bulb should match the wattage of the light stand to avoid overheating the light string and thereby causing a fire.
THINGS TO AVOID: Do not crimp or run extension cords under carpets or through doors. Additionally, use plastic or wooden ladders instead of metallic ladders while hanging decorations. This will reduce the chances of an electrical shock or electrical burn. Do not connect more light strings than recommended. Make sure the bulbs are not touching any combustible material such as a cloth, paper, insulator, or wires. Clips should be used to secure bulbs on the wall and never use nails or staples as they can damage the cords.
UNPLUG DECORATIONS: When going to sleep or leaving the house, make sure you unplug all electrical decorations. Prolonged lighting causes some bulbs to heat up and burst leading to fire outbreaks. An automatic timer that turns the lighting on and off at specific times can be installed along the main power circuit.
Contact Redhawk Electric at (951) 365-0587 to help prepare your home for Christmas Decorations. After you figure your required wattage contact us to enhance your power Circuits, install new power outlets in your yard and on your eves, or otherwise safely plan for your Christmas decorations.