Redhawk Temecula Electrician is Highly Respected
for Installing Electrical Panals
with 252 Google 5-Star Reviews!
Temecula Replace Electrical Panel – Temecula Electrical Panels  – Temecula Electrical Panel Inspection
Call (951) 365-0587 to set up an appointment.
As technology changes, you will need more power in your home. HD TVs and fast computers use more energy than old panels can support. Devices designed in previous decades can only handle up to a hundred amps. Most modern homes use approximately two hundred amperes.
Upgrading your Temecula Electrical Panel Box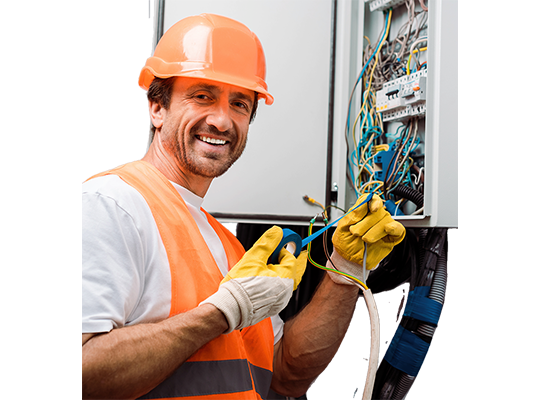 Your home's electrical panel may have a severe problem if it's over twenty years of age. Some electrical panels might have had bad designs, leading to electrical fires. Electrical panels installed after 2000 are pretty safe and reliable. Those designed before 2000 might need electrical panel repair or Electrical Panel upgrades.
We depend more and more on electronic devices in our day-to-day lives. Your existing electrical panel might have difficulty meeting today's energy demands. Have Redhawk Electric test your board if you have any doubts about an electric panel. This may prevent an electrical fire. Your old circuit breaker box might also become a problem when you sell your house. Most home buyers want to know that a home's electric system is up to date. A panel upgrade requires the replacement of your existing breaker box. New electrical boards provide high capacity. Before you consider a do-it-yourself job replacing an electrical panel, read our article:
Do I Need An Electrician for a Temecula Electrical Panel Inspection or Upgrade My Electrical Panel?
Keep your house's power system in great shape. Keep your family and property safe with a new electrical panel. For extra safety, make sure that you install a whole-house surge suppressor. Saving money is always a concern for our clients, but safety is.
Contact Redhawk Electricians Early for an Electrical Panel Replacement
Our services are available when it's time to do a Temecula electrical panel inspection. We can replace your electrical service panel. We focus on customer service, along with delivering quality. Besides, our electricians can upgrade your current electrical panel. The new panel will meet your long-term growth needs. Get your Temecula electrical panel inspection soon to avoid problems. Learn more about Temecula electrical panels.
ELECTRICAL FIRES
"Electrical fires occur frequently. They cause injury, claim lives, and cause loss of property. From 2009 to 2011, there have been 25,900 residential electrical fires. These fires caused 280 deaths, 1,125 injuries, and $1.1 billion in property damage. Electrical fires continued to be a part of the residential fire problem. They accounted for 7 percent of all residential building fires. Old electrical panels are one of the top contributors." FEMA REPORT Volume 14, Issue 13 / March 2014
Call Redhawk Temecula Electricians
When it's time to replace your electrical panel, our services are just a tap away. We focus mainly on customer service, along with delivering quality. Our proficient electricians will upgrade your current electrical panel. The new panels will meet your home's growing requirements.
Electrical Panel Upgrades by Redhawk Electrical Services
Redhawk's Temecula electrical panel upgrades will bring your old breaker box up to date. We will also provide extra slots in the panel for future upgrades. Our electricians will help you renovate your house with an electrical service upgrade. It will enhance your house's electrical capacity to meet daily needs. Contact us for an electrical inspection if you find one or more of the above symptoms. Link to all Commercial Electrical Services, Residential Electrical Services, and projects.
Check for the following signs.
Corrosion presence and rust on the breaker switches.

The interior of the box is heating up.

Appliances consume less than full power.

Your house has two-pronged outlets but not three-pronged grounded outlets.

If outlets near water sources do not have GFCI (ground fault circuit interrupters). This includes sinks, tubs, dishwashers, and clothes washer lines. These outlets will stop the electricity if an appliance has contact with water. This is a safety issue as it prevents shocks.

You always have to use extension cords.

Your home has a sixty-ampere electrical service.

Your home has a 100-amp electrical service but cannot operate some appliances.
On-Time – We at Redhawk Electric understand that your time is valuable. We're On Time.
Clean – Our electricians will leave your home clean after replacing electrical panels.
Drug & Alcohol-Free – All our electricians go through extensive background checks. They also submit to drug tests.
Friendly & Courteous – Our electricians will not swear or smoke in your home.
Repairs Guaranteed – If a repair fails during the first year, we repair or replace the item.
Skilled Professionals – Our staff is all certified electricians. They are master craftsmen with 1,000s of hours of experience in the field.
Straightforward Pricing – Our staff will visit your business or home for a FREE QUOTE. We will let you know all your options.